Myths, Masks & More
The Greeks and their gods may have been a hot mess, but there was always the possibility of metamorphosis—of change, transformation. Metamorphosis lies at the heart of all Greek poetry and drama, harkening back to an even more ancient time when prehistoric men first donned masks to transform themselves into other beings. As the story of the young weaver Arachne illustrates, these transformations were often tragic but wondrous. They were what drew me to Greek myths when I first learned to read, and I've been rereading the same stories ever since.
 As a visiting author, it is my privilege and passion to give students of all ages a glimpse of that ancient experience, to share through poetry, myth and the 20,000-year-old art of the mask the power of transformation. Here you will find brief descriptions of my programs, all of which can be adapted to suit a school's specific needs.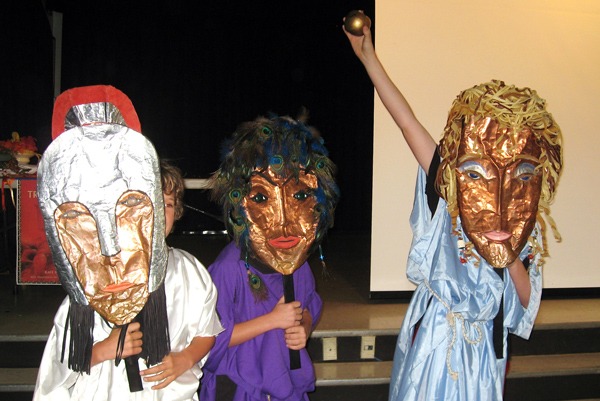 ANCIENT VOICES:
STUDENT ASSEMBLY
In this lively 45-minute presentation, the author presents early Greece's colorful stories in a dramatic performance using the larger-than-life copper masks she makes. Students learn about the origins of western theater arts, get a taste of what it was like to hear poetry on the ancient stage and join in to recreate the famous beauty contest that started the Trojan War.
ANCIENT VOICES:
THE ART OF THE MASK: PART I, WORKSHOP
This hour-long workshop introduces students to the 20,000-year-old art of the mask. Participants work together to construct a professional quality plaster-gauze "life mask" on the face of a student volunteer. A messy, fun-filled process ensues, but students also learn about the use of masks in ancient Greece, birthplace of the drama and western theater arts. Both ancient and modern mask-making techniques are explored.
ANCIENT VOICES: THE ART OF THE MASK: PART II, HAND-HELD MASK PROJECT
In this 90 minute workshop, students create poster board replicas of the large copper and leather masks used by the author in her performances. Students are guided step-by-step through the design and construction process and shown simple techniques for adding depth and detail to their creations. The finished masks can be used in a number of classroom projects, including Readers' Theater dramatizations and the creation and recitation of persona poems and dramatic monologues.
"The students are still buzzing… not in four years has there been such a motivating speaker at our school, in any discipline."
Cynthia Blair
Library Media Teacher
"Wow! Everyone loved your performance! I had a number of people come up later and say it was the best author visit we've had."
Wendy Osborn
President, Los Angeles School Library Association
"The positive message you sent to our students, that everyone wears masks and the masks change when people change, was well received."
Monica Daly
Principal
"Thank you for your wonderful and awe-inspiring assembly and workshop presentations you did for us. The students were amazed with your larger-than-life masks. Those who participated in the workshops were given an opportunity to think outside the box and create their own mask designs. The students who were the plaster mask models excitedly picked up their masks the very next day! I know this kind of enrichment for our students will help them realize that ancient mythology is alive and well!."
Joy Chung
Library Media Teacher
"Thank you for giving 200% of your creative energy and brilliance to Archer! We just finished presenting masks / monologues / poems and the girls did a wonderful job embodying their characters. We have decided on displaying their work on a "wall of masks."
Suzanne Hertzberg
Teacher
"My circulation of Greek myths has gone up 100% since your visit."
Patty Kenzy
Librarian
sign up to receive updates from kate